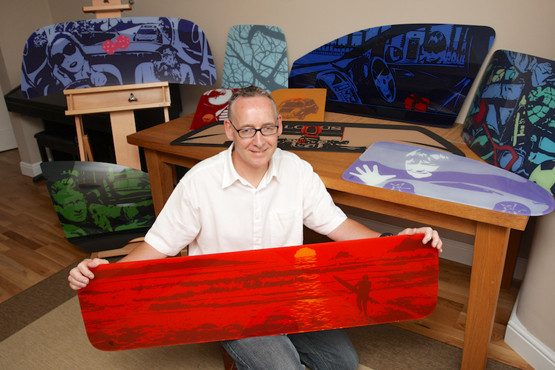 I have been an artist all my life, from traditional to digital and back to real paint again! My interest in windscreens came about by chance – I was in a car park, looking around at the reflections in the car windscreens and windows, and it suddenly struck me that it would be fun to try and paint those scenes directly onto the windscreen glass. Through trial and error I discovered acrylic to be the best medium (for me at least) to paint with. From VW camper vans to Lotus Esprits to Boeing 747s, every windscreen has travelled thousands of miles (millions of miles for a Boeing passenger window!) and each have a story to tell.
I was privileged to be the principal artist for 'Bang The Complete History of the Universe' with Sir Patrick Moore, Brian May and Chris Lintott.

Fascinated by space, my ultimate dream would be to journey to the ISS and look out the most exciting window of all!

Because I reverse paint, every painting I create starts with my signature!
Here's The
Interesting Stuff.

Some of My

Artwork

Is Featured Below.

I really hope you like my work – I am always happy for feedback!